explained, adding that crops were destroyed, livestock lost and water supplies contaminated, "worsening health conditions, particularly for children and those people who have sparse access to health services".  It has also contributed to communal violence between pastoralists. 
While the threat of damage from locusts has yet to have a substantial impact, he updated that the UN agriculture agency, FAO, is "gearing up its preparations to spray to protect crops".
Moving forward
As the UN mission is due for renewal, Mr. Shearer acknowledged that it would be premature to propose a significant change in its mandate, but with the improved mobility of peacekeepers, "plans are in place" to increase "riverine and air support, particularly during the rainy season". 
There will also be an expansion in UNPOL's role and Rule of Law unit "to better tackle impunity and support the shift to civilian law enforcement and accountability". 
While the international community may feel cautious in moving forward, the UN envoy stressed that we cannot "totally step back to wait to see what happens before making a commitment". 
"Our actions can push South Sudan further toward sustainable peace; our inaction can help condemn it to failure", he spelled out. 
"International partners must remain engaged – both in solidarity and, at times, with pressure – to encourage compromise to achieve and maintain the unity", concluded the Special Representative. "South Sudan's future depends on it". 
Women's involvement
On behalf of women and civil society, Betty Sunday, Coordinator of the Women's Monthly Forum on Peace and Political Processes in South Sudan, advocated for the recognition of the role that women's groups played in building peace and argued that more women be involved in the political process.
"South Sudanese women have fought hard" for peace, yet "we are still far from achieving the 35 per cent quota for women in the transitional government body", she said, providing, as an example, that a list of governors under consideration for office "did not include a single woman". 
"This young nation of ours will only achieve a full peace through the meaningful participation of women and women-led organizations", she affirmed, calling on the Council "to stand with us".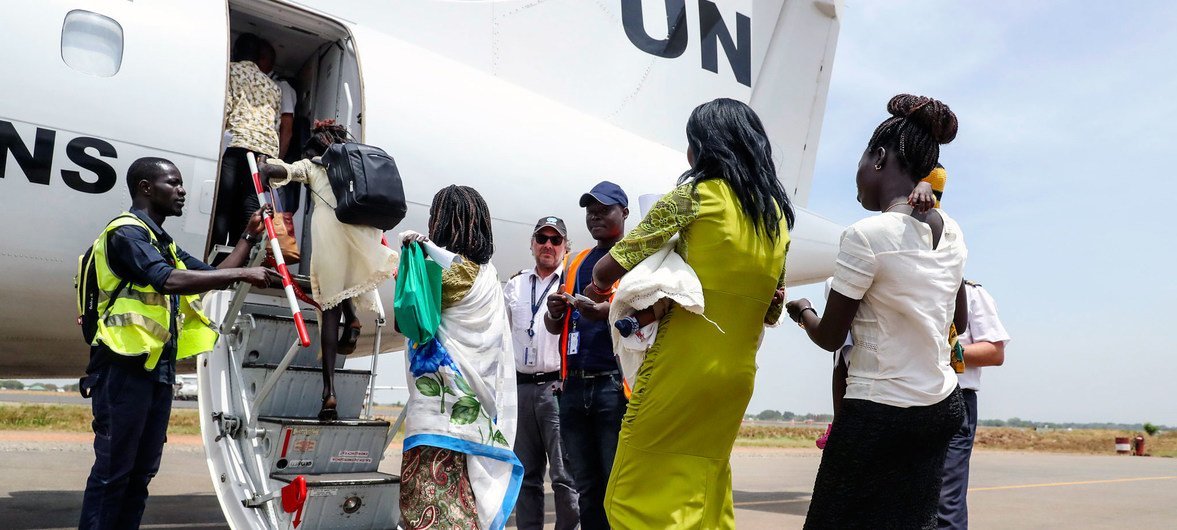 UN Photo/Isaac Billy
After staying at the UN peacekeeping mission's protection site in Juba for several years, 13 mostly internally displaced women and children voluntarily returned to waiting relatives in their hometown of Malakal, South Sudan.