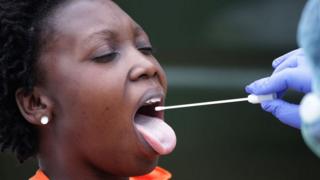 African countries are experiencing a rise in the number of new coronavirus cases, and many governments are now enforcing strict social distancing measures.
As they prepare for a surge in cases, misleading information has been spreading throughout the continent.
1. Misleading video about virus testing in South Africa
In South Africa, a video claiming testing kits were contaminated was widely shared on social media.
In the video, a man calls on South Africans to refuse swab tests, which check if someone currently has the virus.
The clip begins with the man having a swab stuck up his nose. "Do not under any circumstances allow them to test you. There's a possibility that the swabs are contaminated with Covid-19," he says.
He alleges that people globally are saying the swabs are being used to spread the virus, and refers to reports in the UK that test kits there were contaminated.
But this is misleading – the tests were giving false positive readings, it wasn't that the swabs were contaminated with the actual virus.
The Eastern Cape Department of Health says the man's allegations are unfounded.
"We would like to put it on record that the testing kits are not contaminated and emphasise that we would never put people's lives at risk by using contaminated testing kits on them," spokesperson Sizwe Kupelo told the media.
The man was arrested by police and has appeared before magistrates.
2. Vaccines aren't being tested on Africans first
There are widely-shared social media posts claiming that African people are to be used as guinea pigs to test a new coronavirus vaccine.
However, such claims are false – there is no vaccine for Covid-19 and only a number of clinical trials are taking place, none of them currently in African countries.
This erupted on social media again after an interview featuring two French scientists on 1 April went viral and they were accused of calling for a vaccine to be tested on Africans first.
One of them asks if tests to see if a tuberculosis vaccine is effective against the coronavirus could be done in Africa where "there are no masks, no treatments, no resuscitation?"
The comments were widely criticised, by among others the World Health Organization (WHO) and football stars Samuel Eto'o and Didier Drogba who said "Africa isn't a testing lab."
WHO chief Tedros Adhanom Ghebreyesus said: "Africa can't and will not be a testing ground for any vaccine, we will follow all the rules to test any vaccine or therapeutics all over the world using exactly the same rules."
However, the scientists say they've been misrepresented.
In the interview, they do not say that testing of the vaccine should be carried out in Africa first – but that a parallel study should be carried out there too.
3. Black skin isn't resistant to Covid-19
There have been persistent suggestions on social media about skin colour and resistance to the illness.
On 13 March, the Kenyan health minister dismissed the rumours that "those with black skin cannot get coronavirus".
We spoke to Professor Thumbi Ndung'u from the Nelson R Mandela School of Medicine in Durban who said "there is absolutely no evidence to back up the idea – and indeed, we know that people with black skin are getting infected."
4. A cup of black tea does not cure coronavirus
Keeping hydrated is important for your health, but drinking black tea is not a cure or treatment for Covid-19 as has been claimed.
According to local Kenyan media reports, people there have been receiving phone calls advising them to drink tea to avoid the coronavirus – and that if they didn't they might die from the illness.
It's a myth that has been spread elsewhere and has no medical basis.
5. No, you don't need to shave your beard to protect against the virus
An old graphic created by the US health authorities about facial hair and respirators has been used incorrectly to suggest men should shave off their beards to avoid catching the coronavirus.
The Nigerian Punch newspaper's headline said: "To be safe from coronavirus, shave your beard, CDC warns"
The US Centers for Disease Control (CDC) image shows dozens of examples of facial hair and which ones to avoid when wearing a respirator mask. Beard styles such as Side Whiskers and the Zappa are approved but the Garibaldi and French Fork can interfere with the valve and prevent the respirator working properly.
The graphic is genuine – but it was created in 2017 (well before the coronavirus outbreak) for workers who wear tight-fitting respirators. Contrary to what's been reported, the CDC has not published it recently and it does not recommend that people shave off their beards.
Similar headlines have appeared in other countries, generating thousands of shares. Australian news outlet 7News posted on Twitter: "How your beard may unknowingly increase your risk of coronavirus."
6. Nigerian preacher fighting coronavirus
An evangelical preacher who claims he can cure the virus has also been the subject of disinformation.
Stories about David Kingleo Elijah, from the Glorious Mount of Possibility Church started spreading online after a video of him saying he would move to China to "destroy" the virus was uploaded on YouTube and shared on other platforms.
"I am going prophetically to destroy coronavirus. I am going to China, I want to destroy coronavirus," he says in the video.
A few days later, reports appeared in blogs alleging that he had travelled to China but had been admitted to hospital after contracting the virus. The blogs refer to the pastor under a different name – Elija Emeka Chibuke.
The photo used to show him in hospital is actually a photo of Adeshina Adesanya, a Nigerian actor popularly known as Pastor Ajidara, who died in hospital in 2017.